This is part 2, so enjoy :)

Okay so after the they gave out the prizes, then is time for the lumix bidding game.
Remember I told you all about the Nuffnang Dollars?




Its time to make use for it.
They have 3 Sony digital camera to give out. Highest bid gets it.

First camera went to this guy



He bid around 4000 nuffnang dollars I think.

Then the second camera went to KY.



He bid around like 7000 nuffnang dollars for it?

Then we have a bid to get a slot on xia xue's blog or something, starting bid was 1000 nuffnang dollars.




immediately someone bid at a high price for it.

Then now is Kennys turn. slot on his blog too, starting bid 1000 nuffnang dollars.



Kenny so sad lahh... everyone went silent.

Kenny: this seriously sark.

After some time still no one bid for it. Then they decided to change the bid. So it became a slot on kenny's blog AND a Sony digital camera, then kenny started posing with it again.




Then a girl bid 6000 nuffnang dollars I think.



Kenny and his money bathing.

Well after that the last bid was a kiss from Dawn-Yang!




Well this indian dude bid 7000 nuffnang dollars for that kiss tho. But Dawn-Yang isn't ready to kiss him. She said something about him not dressing well, so we all shouted telling him to strip. So his forced to! =D




Well he did! >< so its time for the kiss from Dawn-Yang!



I'd bet he felt like in heaven.

Well after the lumix bidding game, time to celebrate nuffnang's ONE YEAR OLD BIRTHDAY!




Nice cake eh? Too bad we can't eat it.

Well we all sang Happy Birthday song to Nuffnang too! Here's a short video on the song ;P



Ya know, after the song. Timothy Tiah and Ming Shen got presents from the staff of nuffnang too. It was a nuffnang underwear xD




They were force to wear the underwear there too! HAHA!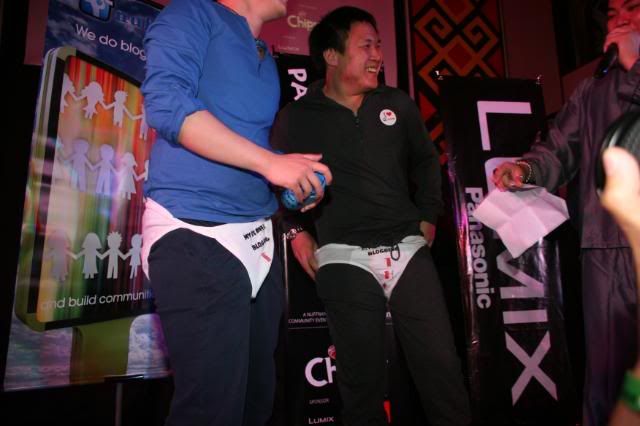 Everyone were laughing their ass off!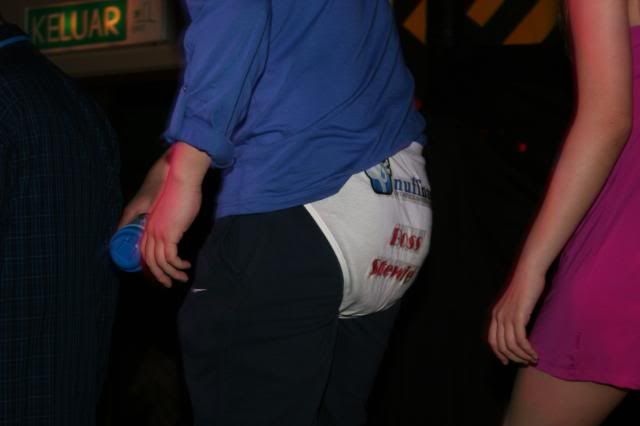 Timothy Tiah's ass.

That was like the best present ever! I really miss those time there. =/
But anyway this is all for part 2!. Part 3 will be coming up soon about some parts I left out in part one.

So, Stay tuned =)