This Pajama Party was my 1st ever blogger party and it totally RAWKED! I seriously enjoyed it with my friends Hau yon, Keng Jin and Li Yin.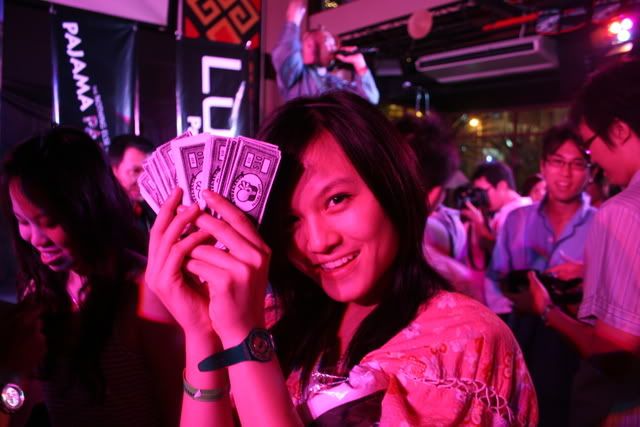 this is Li Yin.

First off Hau Yon and I had to take the LRT to KLCC then walk to our destination.




This is like my first time with my friend taking the train to somewhere else far. We had nothing better to do but to act emo in the train.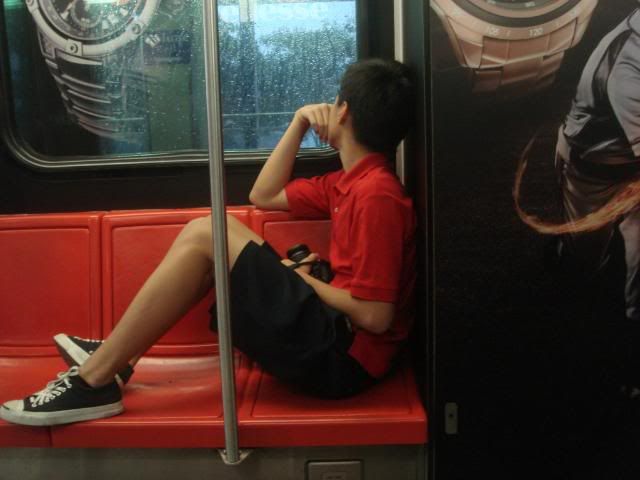 Anyway, it was a 30 minutes ride tho. After we reached KLCC,




Keng Jin is there to guide us there, because Hau Yon and I are not familiar with the place and we don't have a map. Ok maybe I do but its something like this which no mankind can understand.




So anyway, after about 1km walk? we finally reached the place!




Thank gawd I wasn't late for the registration. I was told to get myself the wrist band after the registration. Red are for couples, green are for singles like me.




Oh look I got "Prince Charming" @_@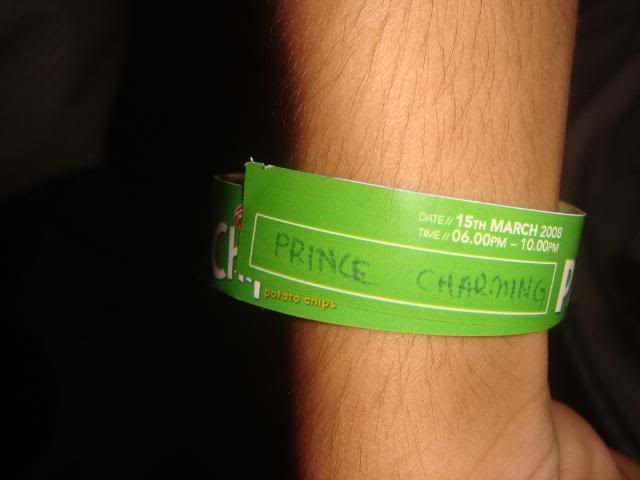 Man, do I even LOOK charming to you guys? 2 letters. NO. am I right? =)




told ya.

Anyway, after the registration, Hau Yon and I went to change into our Pajamas =D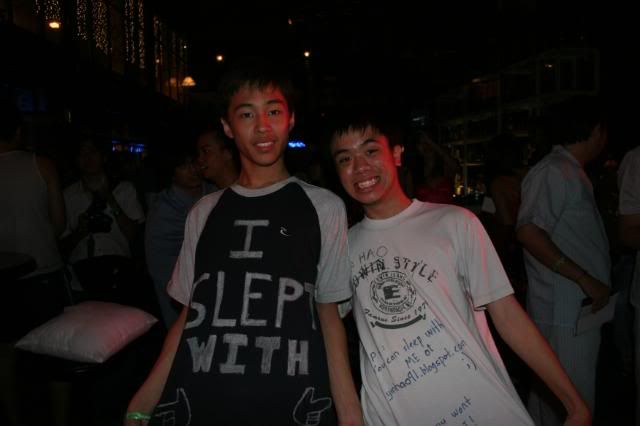 Nice ain't?

We were given some time to roam around the place and chat with your blogger friends there. Ya know, if I dint have Hau Yon with me I guess I'll be a little loner in that party.




The event started off with the Co-Founders of Nuffnang, Timothy Tiah and Ming Shen.



on the left Timothy Tiah, center is the MC, right is Ming Shen.

Well, we had some games first before the dinner. This game was so fun. Firstly the MC told Ming to run for it, because the one who got his smelly socks wins a prize! Everyone was like rushing towards him trying to rape him.
This guy got the socks first tho but the MC got all evil and asked him to sniff it for 2 seconds to receive the prize.



Smells soooo gooooooooood!

after 2 seconds.



I think he's gonna puke.

Anyway, after that sock sniffing game, the MC told Nicholas Chay to run for it. Whoever got his slipping shoes wins!

Well my friend Keng Jin and another got guy got it at the same time. The MC couldn't decide who wins, so since its his game. They played it his way. the MC said whoever can do the most push ups win.




BUT! this ain't normal push ups. This time we have girls sitting on them! xD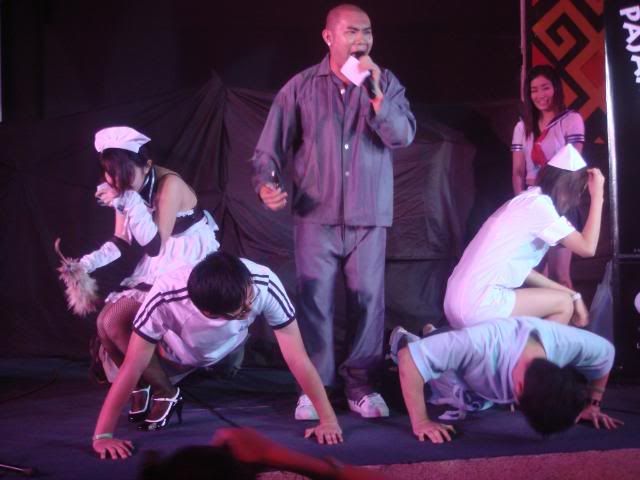 O_O they sure got lucky.

But not fair lahh, my Friend Keng Jin is only 17 years old! that guy is like 26? But still my friend tried his best! ><

Keng Jin: I can do it! i can do it!



Keng Jin: MMMMM! SCREW IT LAH!

so he lost =/ and the other guy won.




So sad... my friend dint win.

Well anyway, after that 2 games. Its time for dinner!




Nothing much tho... just assorted sandwich, bee hoon, sambal potato, fruits.. and so on.

Mean while, we still have some small games going on.
All the Nuffies are told to sit at the stage and give out Nuffnang Dollars!




Its small, black and white.




Everyone is given 100 bucks nuffnang dollars. Well we can use these nuffnang dollars to bid in an auction later. You can win more nuffnang dollars by betting with people. You are given 2 games to choose to bet on. Rock, scissors, paper and thumb wrestling.




I got a challenge, both of us got tired and make it a draw. =/

After dinner, and here the fun begins! :D Kenny Sia arrived late because he just came back from Bangkok.




Well, first off he gave a speech then he called all the Girls from Malaysia Dreamgirls.




Then, the girls are told to make a pose and Kenny will pick someone to try pose the same way to win a prize. Everyone was like shouting " ME ME!! KENNY ME" I got excited and raised my hand. OMFG! Kenny picked me! ROFL.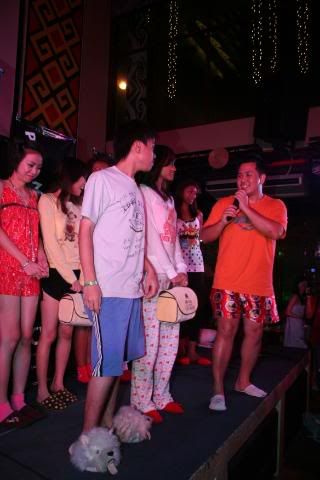 There, the guy in white shirt and blue shorts and that doggy slippers is me! xD
I never thought that things like this could happen. Okay so anyway, I was told to pose like that girl before! WAHAHAHA!




* shit! forgot straighten my hand*
*straightens*



WHOAAAAA!!!
Kenny: Hmm, this guy here trying to act sexy but not sexy!

I know my pose isn't that nice... I'm just a 17 year old kid which have no modeling experience at all. what to do, just have some fun. xD By the way, I still passed.

Next we have this guy.



SEXYYYY MAN!!!

Next, Kenny asked 5 people to come up.
First one was this girl here.




Not bad eh?
Then this girl.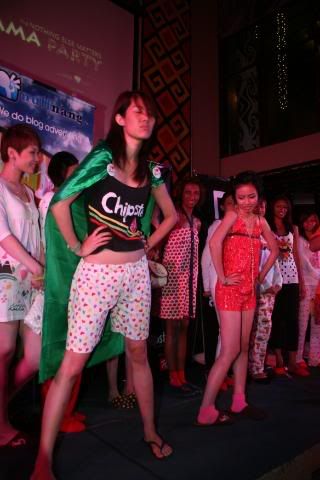 Their pose nothing much tho. Then we have another guy



Fwuahhhhhh...

Then this one is the best already.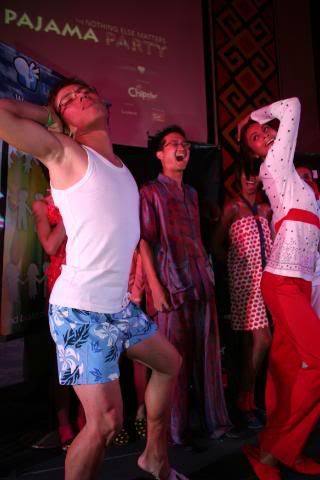 OMG! LOOK AT THE SEXY-NESS!



eh dun close larrrr..

after that we have another 3 people left.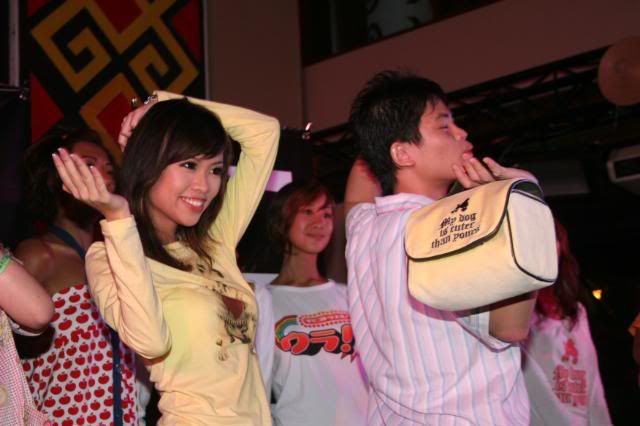 *uh I feel like Paris Hilton~*

and this girl..




Then I don't know why this model pose like a Tai Chi or something...




Still cool xD
Then Kenny started taking pictures with the girls his way.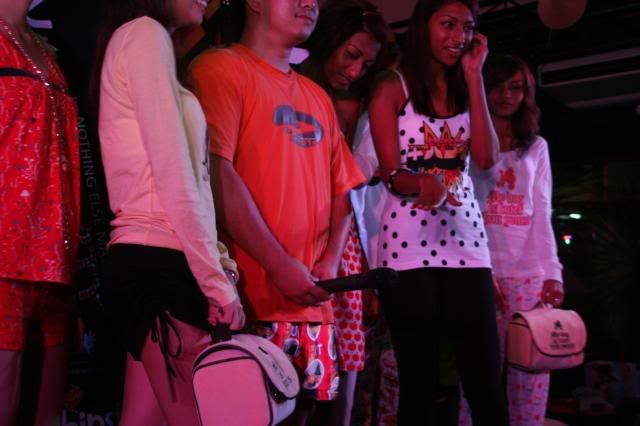 tsk tsk.. Notti Kenny.



Don't put your finger like that... disgusting.



Kenny sexy hairy beast.



SEXYYY Kenny!

Anyway after the Malaysian Dreamgirl event, time for to announce the winners of 'I Sleep Better with Chipster'

Most chipsters pack in one photo goes to...



I-forgotten-who so sorry! =/ Anyway Congrats on the Mac Book!

Quirkiest Post goes to..



Chipster man! He's Pajamas are made out of chipster packets!

Then the Best Pajamas goes to this girl from before! xD



I want the Ipod touch~~ T__T

Anyway This is all for part one! Stay tuned for part 2!