This morning after I woke up, I received a SMS from my friend telling me that I'm on newspaper! I went OMG WHAT! WHERE WHERE! it was on Star newspaper, Metro!




So anyway here's the content if you are interested in reading and you don't have the newspaper.

Bloggers jam in pyjamas at first year party

It WAS barely 6pm and the sun had yet to slip below the horizon, but about 300 people in the Borneo Baruk Club in Kuala Lumpur were already in their nightgowns and pyjamas.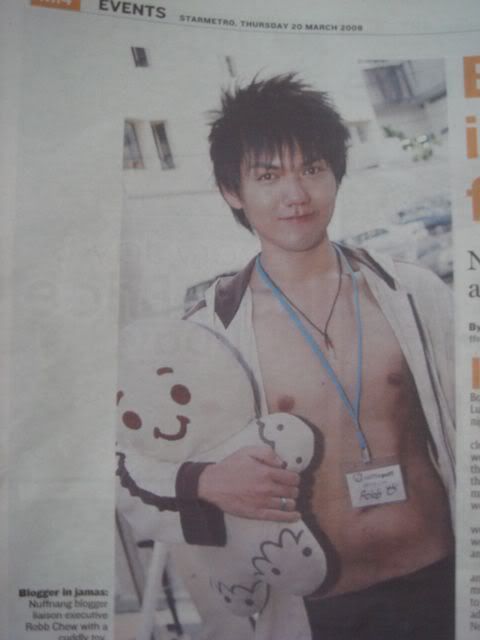 Blogger in jamas :Nuffnang b logger liaison executive Robb Chew with a cuddly toy.

However, they were nowhere close to hitting the sack. The ladies were all dolled up, most of them in their bedtime best and those from the opposite sex did not seem to mind clutching soft toys as they went about socializing.



Shutterbugs at work: Some guests snapping shots of the goings-on

These young men and women re actually bloggers and they were gathered to celebrate the first anniversary of Nuffnang Sdn Bhd.

Nuffnang claims to be Asia's first and leading blog advertising community, which allows advertisers to serve graphic or video-based advertisement on local blogs in Nuffnang's blog network.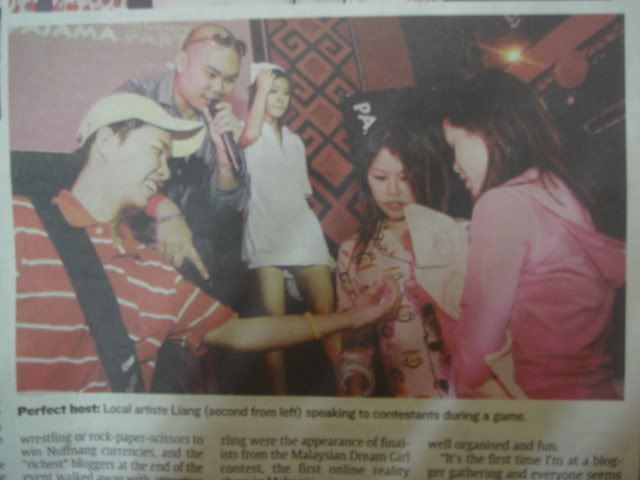 Perfect host: Local artiste Liang(second from left) speaking to contestants during a game.

Supposedly the largest cross-border bloggers' gathering ever held in the region, the pyjama party had bloggers from Malaysia and Singapore under one roof.



Blogger anonymous: This blogger had a helmet on to protect his identity.

Among those present were Malaysian top blogger Kenny Sia and Singaporean top blogger Wendy Cheng, better known as XiaXue.

Sia lauded Nuffnang's efforts in bringing the bloggers together.
"Previously, there were no formal groups to organize community events for bloggers, and the last informal event for bloggers, and the last informal gathering held on a similar scale was back in 2005," said the 26-year-old, who has been with Nuffnang since its inception.



Formal introduction: Sia introducing the Dream Girl finalists to the audience.

With pop songs blaring from the speakers, there was never a dull moment at the party hosted by local artiste Liang.



Pretty Pajamas: Bloggers in their pyjamas posing next to the Malaysian Dream Girl finalists.

Singaporean blogger Shen Qiaoyun said, "I am here to share the joy of meeting fellow bloggers and I am very surprised and happy because there are so many games and activities, as well as prizes to be won."

The games played were designed to kill two birds with one stone - bloggers interacted with each other by playing thumb-wrestling or rock-paper-scissors to win Nuffnang currencies, and the "richest" bloggers at the end of the event walked away with attractive prizes.



Playtime: Thumb-wrestling was a popular game amongst "Nuffnangites"

Making the night even more sizzling were the appearance of finalists from the Malaysia Dream Girl contest, the first online reality show in Malaysia.

Malaysian blogger Gan Ching Chui described the event as being well organized and fun.

"Its's the first time I'm at a blogger gathering and everyone seems to be approachable and easygoing," said the 22-year-old law student.



Pajama party: Blogger helping themselves to a variety of dishes.